In a quaint little village, an elderly woman cherished two sizeable jars, which she used to collect water from a nearby stream daily. She carried them on the ends of a long pole, each dangling from either end as she gracefully balanced them on her shoulders. One jar bore an intricate crack, while its counterpart gleamed flawlessly in perfect condition, always managing to retain its full water capacity.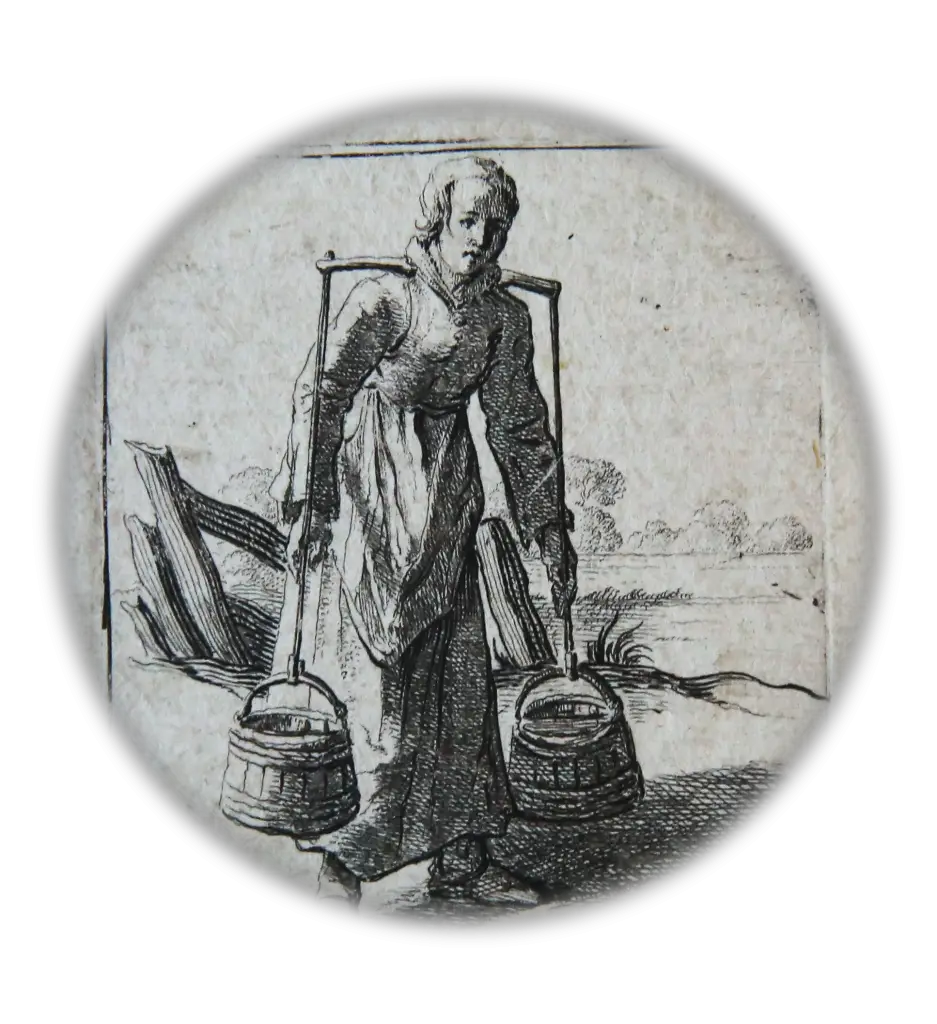 The first day she carried the jars to the stream, filled them with water and then made the long journey home. At the end of the walk, the "perfect" jar delivered a full portion of water whilst the "cracked" jar only arrived half full.

The elderly woman kept this tradition up for two years, making the long walk to and back from the stream every day. Each time with one jar filled to the brim, whilst the other only returned half of the water.
The perfect jar swelled with pride at its impeccable performance, and boasted to the cracked jar that its contributions couldn't equal to that of the perfect jar. This made the cracked jar ashamed of it's own imperfections, wallowing in despair for it's inability to fulfill its full purpose.

After two years had passed, the cracked jar could no longer stand it's failure. When the elderly woman had once again reached the stream, the jar spoke to her confessing, "I feel so defeated and ashamed. This imperfection of mine is letting the precious water slip away all the way as you journey back to your house. Wouldn't you be better off without me?"
With a knowing twinkle in her eyes, the wise woman asked, 'Have you ever observed the blossoming flowers that grace your side of our path, while the other side remains barren?'

She continued, "That's because I have always known about your unique crack, I sowed flower seeds along your side. And with each step we've taken together, you've been nurturing them & giving them life."

"For two years, those radiant flowers have adorned our table. Without your distinct character, our home would not have been blessed with this beauty."
Lessons from the Cracked Jar Story: God's Perfect Design
Do you sometimes feel inadequate or powerless? Like your efforts don't amount to much in the eyes of the world?
We constantly compare ourselves to others, oftentimes feeling inadequate or cracked in comparison to those who seem flawless. Just like the jars in our story, we too bear cracks that make us feel less valuable or efficient. Yet the story of the cracked jar and its wise owner offers profound lessons on the beauty and purpose of imperfections.
Imperfection Has It's Purpose
Everyone wishes to be like the "perfect" jar. Without cracks or blemishes, and able to serve its purpose well by carrying its full load of water every day. But is there truly a "perfect" person in this world?
"…My grace is sufficient for you, for my power is made perfect in weakness." – 2 Corinthians 12:0
Whilst we should strive to be perfect in the ways of the Lord, chasing perfection in the standards of the world is futile and . It is in our weaknesses and cracks that God gives us the power to shine through.
The cracked jar viewed its imperfection as a flaw, a failure. Yet it was this very flaw that the elderly woman used to nurture a barren path. Romans 8:28 reminds us, "…And we know that in all things God works for the good of those who love him, who have been called according to his purpose." Just as the wise woman saw purpose in the cracked jar's imperfection, God too sees potential and purpose in ours.
Comparison With Others Is Folly
In the story, the cracked jar compared itself to the perfect jar, and felt inadequate and useless. But comparison is often a misleading yardstick. Each of us, like the jars, has unique purposes that cannot be measured merely by external standards.
External Validation: The perfect jar basked in its external validation, deeming itself superior. But in seeking only external praise, we risk overlooking our intrinsic value.
Intrinsic Worth: The cracked jar, unaware of the flowers it nurtured, deemed itself worthless. But worth is not only about capacity but also about the uniqueness one brings into the world.
The elderly woman, with her wisdom, saw more than just a cracked jar. She saw opportunity, beauty, and purpose.
"…The LORD does not look at the things people look at. People look at the outward appearance, but the LORD looks at the heart." – 1 Samuel 16:7
God's vision is not limited by our physical or even emotional imperfections. He sees the heart and the beauty it can bring forth. In our lives, God often uses our imperfections, mistakes, and failures to create beauty and bless others in unexpected ways.
---
Our imperfections can be channels of grace, beauty, and blessings. Rather than diminishing our worth, they give us unique abilities to handle different situations with creativity and thinking out of the box. For nobody in this world is perfect. We are merely called to make the most out of the gifts and abilities that God has seen fit to grant us.
Just as the wise woman trusted the purpose of the cracked jar, we are called to trust in God's plan for our lives, believing that He can transform our cracks into streams of living water.
So in moments when you feel "cracked" or less than perfect, remember that God has sowed seeds beside your path. With every step, you might be nurturing something beautiful, even if you can't see it yet. Embrace your imperfections, trust in His design, and let His grace flow through your cracks.